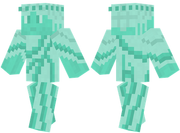 Statues
are stony neutral mobs.
Appearance
They appear to be turquoise players or stony iron golems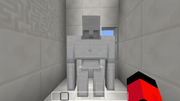 . Before you attack them, they are inanimate.
Stats
3 damage
15 hp
Drops: Quartz blocks, the blue one drops diamonds.
When attacked, or powered by Redstone, they attack you.
They spawn in Marble Temples.
Strategy: Use a pickaxe, because they are made of stone