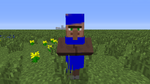 Police (Also known as Law Enforcement) are Villager Mobs that help protect the village from being attacked by creatures and rampant individuals.
Appearance
Police, appear as standard Villagers wearing blue hats and aprons to show who they are to others.
Stats
Strategy: They are weak (less than half of your full health) , so use a powerful weapon against them. 
Drops: