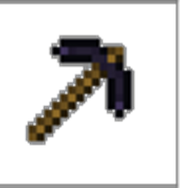 Obsidian tools can mine anything twice as fast as diamond, they mine Obsidian faster than diamond, and can mine all Nether blocks instantly.
Types of Tools
These are the types of the tools:
-Obsidian Pickaxe - Has 100 more durability than diamond, can be charged like a bow to break 10 blocks at once, but this removes 10% of durability.
-Obsidian Axe - Has same durability as diamond axe, but mines twice as fast, can be charged like the pickaxe to mine all wood in a single tree, but this removes 9% of the durability.
-Obsidian sword- has infinint durability and can be charged to kill all monsters within 20 blocks and has 500 damage per hit.
-Obsidian shovel- can mine any soft item and sand and gravel and has 500 durability and mines it as fast as diamond, if you mine the block under sand and gravel it will not fall.

-Obsidian hoe- Has 500 durability and once something is turned into farmland it will stay like that for an infinint amount of time.
Ad blocker interference detected!
Wikia is a free-to-use site that makes money from advertising. We have a modified experience for viewers using ad blockers

Wikia is not accessible if you've made further modifications. Remove the custom ad blocker rule(s) and the page will load as expected.