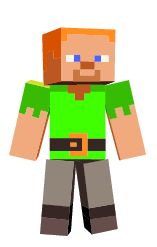 Jack is a woodsman from minecraftia, and a character from Mailjesuru's "Sandstone Creepers".
Appearance
He appears as a default minecraft skin, with blonde hair, and blue eyes. He wears a green tunic and brown belt, with grey pants, and brownish grey boots.
Personality
Being a woodsman, he tends to be very irritable, and tends to think with his axe rather than his head. He makes a living by chopping trees and selling wood/wooden planks to villagers. He hates spiders.
Plot
TBA
Gear
Iron axe.
Crafting Table
Iron sword.
Gallery
Triva
Jack is based on one of the characters shown on the minecon banners.
jack doesn't take the role of any specific MH character, but if he did, it would probably be Tim.
He is the brother of Lisa.