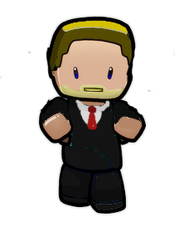 Harvey Dent
was the District Admin of Gothacraft, and an ally of
The "Bat-Man"
and
Comissioner Gordon
. After he was scarred by a poison potion, he became a psychotic griefer, hell-bent on revenge.
Not to be confused with Harvey Kent, a similar character also created by Mailjesuru.
Personality
Harvey Dent was an upstanding citizen of Gothacraft, and the District Admin, in charge of prosecuting griefers. He believed that he could help clean up the city and get rid of the griefers. He always carried around his lucky Coin of Fortune.
After the incident, his personality was fractured. He became a revenge-driven griefer, seeking to destroy all griefers and The Bat-Man.
Appearance
Harvey looks like a normal human in a suit, with a red tie, and blonde hair/beard. After the incident, his face is scarred in a similar way to a zombie pigman, and his suit is a mix of black and grey, with a two-colored tie, and a two-colored tunic underneath.
Gear
Revolver/Hunter's Handgun
Harvey carries with him a revolver and a hunter's handgun, with two different types of ammo.
Coin of Fortune
His lucky coin of fortune, scarred on one side. He uses it to make decisions.
Golden/Diamond Sword
Harvey has two swords: One golden, One diamond.
Trivia
He is based on Harvey Dent from Batman.
Gallery