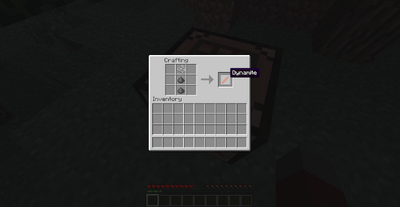 Dynamite is a thrown explosive that is crafted as shown on the picture on the right.
Crafting
If you cannot see the crafting recipie as it is fairly small, it is crafted like this: S :String G :Gunpowder O :Empty Space.
---
O S O
O G O
O G O
---
Usage
Dynamite is very easy to use: you simply have to right click while the dynamite is selected, and watch it shoot out to the direction that you were facing, and it will explode.
Ad blocker interference detected!
Wikia is a free-to-use site that makes money from advertising. We have a modified experience for viewers using ad blockers

Wikia is not accessible if you've made further modifications. Remove the custom ad blocker rule(s) and the page will load as expected.