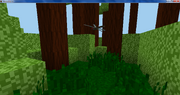 The Carboniferous Dimension is a new Dimension visit-able via Portal. It has many unique mods, blocks and biomes.
Biomes
Coal Swamp
Rainforest
Ocean
Highland
Marsh
Blocks
Lepidodendron Wood
Lepidodendron Leaves
Carboniferous Dirt
Carboniferous Grass
Marshland
Mobs
Passive

Brachiopod
Ammonite
Trilobite
Dendrerpeton

Neutral
Hostile

Orthacanthus
Dimetrodon
Pulmonoscorpius
Xenacanthus
Ad blocker interference detected!
Wikia is a free-to-use site that makes money from advertising. We have a modified experience for viewers using ad blockers

Wikia is not accessible if you've made further modifications. Remove the custom ad blocker rule(s) and the page will load as expected.