This page is incomplete.
This article is not about Dinnerbone as game developer of Minecraft.  Instead, this is part of the Book of Notch, and refers to Dinnerbone as an Indevian.  This article is purely fiction.
Dinnerbone was third-in-command after
Jeb
and
Notch
after Notch was exiled to Earth.  His advisory skills proved decisive in
the Great War
, but unfortunately he died after being infected by a
zombie
during
the Second War
.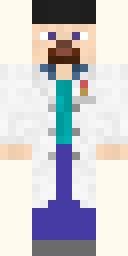 On Indev
Dinnerbone was the son of a priest who wanted him to become a priest as well.  However, Dinnerbone was fascinated with the cosmos, and studied astronomy, astrophysics, and rocket science during his early years.  He was accepted into the Indev Institute of Space Exploration and eleven years later was assigned to monitor the mechanics of Cronus IX on its maiden voyage.  He became close friends with Notch, who convinced him to help him plan a mutiny against Admiral Sparklez, but the mutiny failed and Dinnerbone was exiled with Notch and Jeb.
Protector of Earth
Dinnerbone protected the balance of nature on Earth alongside Notch and Jeb, and nothing exceptionally interesting happened until Indev collided with Earth.
Conflict with Herobrine
Dinnerbone tried to establish diplomatic relations with Herobrine, but he refused and the Indevians of the Overworld allied against those of the Nether.