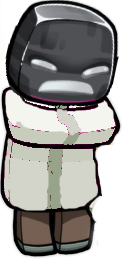 Roman Sionis, A.K.A. "Black Mask" is a Grief Lord in from Gothamcraft. He practiclaly controls all the crime/grief that goes on in the city.
Appearance
Sionis looks like a testifacate with black hair and green eyes. He wears a white villager robe, with a black tunic underneath, and brown pants. Over his head, he wears a wither skull as a mask, hence the name.
Personality
Sionis is cold, calculating, and ruthless. He will stop at nothing to get what he wants, and is quite fond of tourturing/killing those who fail him. Translation: He's an a**hole. All of his henchmen also wear heads as masks.
Gear
Wither Skull Mask
He wears a wither skull as a mask, hence his name "Black Mask".
Handgun
He weilds a hunters handgun. He tends to use regular ammo.
Gallery
Trivia
He is based on "Black Mask" from batman, namely from "Arkham Origins", which "Bat-Craft" takes inspiration from.
Ad blocker interference detected!
Wikia is a free-to-use site that makes money from advertising. We have a modified experience for viewers using ad blockers

Wikia is not accessible if you've made further modifications. Remove the custom ad blocker rule(s) and the page will load as expected.