Jonathan Crane, The Scarecrow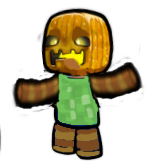 Jonathan Crane was a professor at the Gothacraft University, before he was fired for fireing a revolver in class without warning. He then took to studying dark magic, and seeking revenge against the university professors.
Appearance
Crane looks like a human with green eyes, brown ahir, and reading glasses. He wears a rbown suit and green tie. As the Scarecrow, he dresses like a scarecrow: Pumpkin mask, melon-looking tunic with stick-like sleves, and stick-like pants.
Gear
Gallery
Mr.Freeze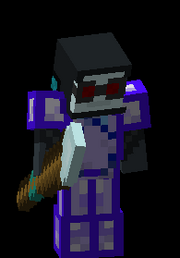 mr.Freeze was once a prominent scientist for Gothacraft, before his wife became terminally Ill with an uncurable disease. He began reserching using Ice as a possible cure, but was badly injured when he was  inadvertantly struck by a
frezarite
, after getting too close to the impact site. Now, he cannot survive outside of cold tempertures, and must wear frezarite armor at all times.
Appearance
He looks like a blue-skinned human in goggles, wearing frezarite armor.
Gear
Gallery
Trivia
Jonathan Crane is based on The Scarecrow from batman, namely the one from batman begins and batman animated.
Scarecrow is also absed on Oogie Boogie, somewhat.
Mr.Freeze is based on Mr.Freeze form batman, namely the one from BTAS and Arkham City.