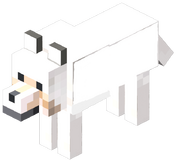 The
Arctic Wolf
or
Fluffy Dog
is a neutral mob living in Frost Woods biomes.
The Arctic Wolf Mob
Arctic Wolves are neutral mobs that attack when provoked. They can be tamed with bones, meat (except fish), and Candy Canes. They will have a striped collar. Arctic Wolf pups can be achieved by feeding two wolves Candy Canes or a type of meat (other than fish). They can not be bred with bones. The wolves are silky white and get gray patches when hostile.
Trivia
They cannot slide on ice blocks.
Wild Arctic Wolves will attack regular sheep but not lambs.
Their whimpers sound higher pitched.
Ad blocker interference detected!
Wikia is a free-to-use site that makes money from advertising. We have a modified experience for viewers using ad blockers

Wikia is not accessible if you've made further modifications. Remove the custom ad blocker rule(s) and the page will load as expected.